| | | |
| --- | --- | --- |
| | Quick Find | |
| | | |
| --- | --- | --- |
| | Categories | |
| | | |
| --- | --- | --- |
| | Manufacturers | |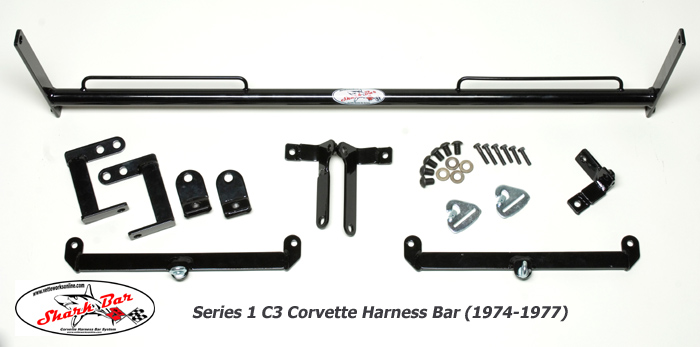 Vetteworks Sharkbar Series 1 C3 Corvette Harness Mounting Bar for Track Events 1974-1977
$459.95
$399.99
| | | |
| --- | --- | --- |
| | Shop by Price | |
| | | |
| --- | --- | --- |
| | Trade Associations | |
| | | |
| --- | --- | --- |
| | Site Payment Seal | |
C6 Performance Specializes in C7 Stingray, Z06, Grand Sport, ZR1 Parts, C6 Corvette Accessories, Parts and Styling, C6/Z06 Corvette, C6 Grand Sport, ZR1, C5 & C5/Z06 Parts and LS1, LS2, LS3, LS6, LS7, LS9 and LT1, LT4, LT5 Engines as well as all 2010+ Camaro, 1998-2002 Camaro/Trans Am.
Our experienced staff can assist you in selecting the right parts for your car to deliver the best styling and performance possible. We have one of the largest selection of Late Model Corvette Parts anywhere on the Internet with many exclusive items not seen anywhere.

If you don't see what you're looking for please Email Us at Sales@C6Performance.com for Fastest Service or Call Toll-Free 866-893-2090.
Please Note: Our Server was corrupted by our hosting provider on October 26, 2017. We had to rebuild our shopping cart system. If you have an issue please let us know.
We are now running on www.C6Performance.net/catalog This site is now our new home and fully operational.
| | | |
| --- | --- | --- |
| | Categories | |
| | | |
| --- | --- | --- |
| | New Products For August | |

C6 Corvette, 2005-2013 All models, Profile Pixel: RGB Wheel Rings 14", 4 piece set
$240.00

C6 Corvettes 6.2L LS3 Powered 2008-13 iNTECH Cold Air Intake from Holley, 15 additional horsepower
$369.95

C7 Corvette Z06, CORSA Extreme Axle-Back Performance Exhaust System, Quad 4.5" Round Tips
$2,301.30

1982-1993 Flowtech S-10 LS Swap Long Tube Headers, 1 3/4" Primary, 3" Collectors, Natural Finish
$449.95

10-15 Chevy Camaro V8-6.2L iNTECH Cold Air Intake from Holley, 19 additional horsepower
$349.95

C7 Z06 6.2L LT4 Supercharged Corvette iNTECH Cold Air Intake from Holley, 45 additional horsepower
$379.95

C7 Corvette Z06, CORSA Extreme Axle-Back Performance Exhaust System, Quad 4.5" Round Tips
$1,985.00

16-18 Chevy Camaro V8-6.2L iNTECH Cold Air Intake from Holley, 19 additional horsepower
$349.95

C7 CORVETTE RACING Classic Folding Sport Chair with Screened Corvette Racing Logo on Back
$58.95

C7 ZR1 Corvette LIFE BEGINS AT 200 MPH, T-Shirt
$79.95

C5 / C6 Corvette, 1997-2013 All models, Philips X-treme Ultinon 194 LED bulbs for Side Markers, Interior, Cool White - clone
$28.00

C7 Stingray, Grand Sport 6.2L LT1 Corvette iNTECH Cold Air Intake from Holley, 21 additional horsepower
$349.95

Chevrolet Chevy Girl Glitter Tee 60% cotton 40% polyester
$18.95

Camaro NEON TRUCKER Hat, Cap, with CAMARO Logo on side front
$18.99

C7 Z06 Corvette AFCO Racing Double Pass, Pro Series, Air to Water Heat Exchanger / Intercooler
$744.99
| | | |
| --- | --- | --- |
| | Featured Products | |

10-15 Chevy Camaro V8-6.2L iNTECH Cold Air Intake from Holley, 19 additional horsepower
$349.95

C7 Corvette 14-19 Molded Smoked Acrylic Tail Light Lens Blackout (Set of 4)
$259.95

C7 Corvette Wingover Bomber Jacket, Embroidered C7 Corvette Flag Emblem
$79.99

MSD 8.5mm Spark Plug Wires, Red 97-13 LS1/LS2/LS3/LS6/LS7/LS9 C5, C6 Corvette Camaro
$76.03

C6 Z06 / C7 / C7 Z06 Corvette Stingray Double Tall, Anti-Slip Lifting / Jacking Pads, Pucks, Set of 4
$65.00

2014-2019 C7 Corvette Stingray, Z06, Grand Sport SharkBar Harness Mounting Bar, Track Day Gear
$434.95

C6 Corvette 05-13, Morimoto XB LED Replacement Taillights, Set of 4
$480.00

C7 Stingray, Grand Sport 6.2L LT1 Corvette iNTECH Cold Air Intake from Holley, 21 additional horsepower
$349.95

JET Performance 160 Degree Thermostat LT1 2014-2019 Camaro, Corvette C7 and others
$26.21

Vetteworks Sharkbar Series 1 C3 Corvette Harness Mounting Bar for Track Events 1974-1977
$459.95

$399.99




A&A Corvette 1997-2004 C5 LS1 or LS6 Corvette Supercharger Kit (Vortech Based)
$5,995.95

$5,200.00




C6 "CORVETTE" Mirror Finish Rear Stainless Steel Letter Inserts, Fits all Model C6 Corvette
$64.95

$58.46



0 items
| | | |
| --- | --- | --- |
| | Your Account | |
| | | |
| --- | --- | --- |
| | Best Sellers | |
| | | |
| --- | --- | --- |
| | Live Support | |
| | | |
| --- | --- | --- |
| | Information | |
| | | |
| --- | --- | --- |
| | Cards We Accept | |
| | | |
| --- | --- | --- |
| | Social Networking | |